Main New Zealand Facts:
location: In the Southern Hemisphere and is approximately 2250km east of Australia. It spans 1600 km from north to south, and is made up of the North Island, the South Island, Stewart Island and various small surrounding islands.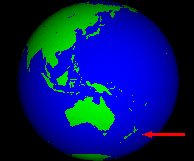 population: Exactly 4 million people on New Zealand on 24 April 2003. Here is the latest population figure from Satistics NZ.
language: The official languages are English and Mäori, and with New Zealand having the biggest polynesian population in the world there are many Pacific Island languages spoken. The name Aotearoa is the Mäori word for New Zealand.
the flag: It consists of two main elements, the Union flag of Great Britain and the four stars of the Southern Cross.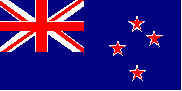 national anthem: It is called "God Defend New Zealand", Here is the NZSO-played audio file and 'sheet music' of the national anthem.
national sport: Rugby Union (Winter), Cricket (Summer)
kiwiana stamp collection: icons and symbols of New Zealand are called kiwiana, here is one such collection from 1994 featured on stamps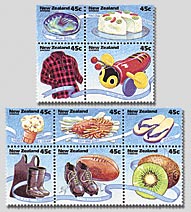 links about new zealand: profile of NZ from a tourist point of view
profile of NZ from a statistical point of view
history of new zealand: visit the about New Zealand - History website
general infomation: general information at the Kiwi Web website
the map of new zealand: